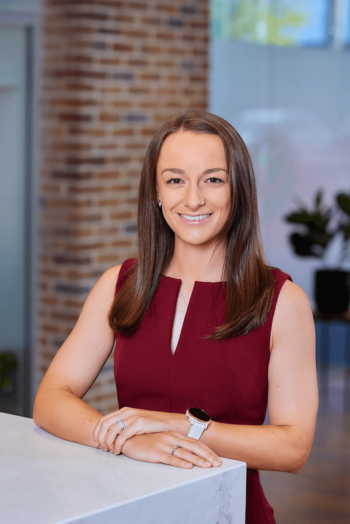 Rochelle understands that separation is a stressful and unique experience for each person.  Decisions made after separation are extremely important, often with long-term effects for the entire family.  She also understands that seeing a lawyer for the first time after a separation can be daunting.  Rochelle is a compassionate lawyer who listens carefully to her clients and genuinely cares about assisting them to set and achieve their goals after separation and to move forward with their life.
Rochelle has experience in all aspects of family law including complex property, children's, and domestic violence matters.  In addition to her law degree, Rochelle has a Bachelor of Business with a major in accounting.  She has previously worked in one of the Big Four accounting firms.
Rochelle's business degree and previous work experience give her an edge when assisting clients with their property settlement, including more complex property settlements involving various commercial entities/structures and business interests.
Rochelle prides herself on providing clients with practical and commercial advice.  Where possible Rochelle guides clients towards an amicable and swift resolution, without the need for expensive or protracted court proceedings.
Rochelle's focus on resolving disputes outside of court means that she has significant experience in both negotiation and mediation.  Rochelle is also a trained collaborative law professional.  As a trained collaborative law professional Rochelle never loses sight of her client's goals for their settlement and future.
Her experience in collaborative law and respectful negotiation allows Rochelle to assist clients to put in place arrangements for their children that are child-focused, encouraging parents to maintain a co-parenting relationship that will benefit their children and family into the future.
Where it is not possible to resolve a parenting or property dispute outside of court, Rochelle has experience appearing before various Judges and Registrars of both the Federal Circuit and Family Court of Australia, including in relation to complex parenting and property matters.
Rochelle frequently assists clients who are experiencing domestic violence or who are alleged to be a perpetrator of domestic violence.  As a family lawyer, Rochelle understands how domestic violence can impact parenting arrangements for children and can advise both applications for domestic violence protection orders and any flow-on impact in relation to care arrangements for children.  She has experience appearing before the Magistrates Court.
Rochelle is passionate about Far North Queensland.  When she is not in the office you will often find her out and about exploring.
If you require assistance in relation to family law or domestic violence matters, Rochelle will listen to your concerns, provide you with practical advice, assist you in making a plan and work with you to achieve your goals.

Call Us Now For An Obligation Free Consultation